More balanced pickups plus hot–rod wiring for coil splitting and onboard Boost update this '70s icon for the 21st Century.
Gibson G FORCE™ Building on eight years of continuous development, G FORCE extends the innovations introduced in Min-ETune by including new firmware that greatly improves ease of use. Combined with increased speed and accuracy, G FORCE provides the best and simplest user experience yet in an automatic tuning
---
Zero Fret Adjustable Nut (patent applied for) The patent applied for Zero Fret Adjustable Nut increases sustain, promotes accurate intonation, and improves action by offering a wide, range of nut adjustments. Slide guitarists can raise and lower action easily.
---
Upgraded Tune-O-Matic Bridge with Titanium Saddles An Allen wrench-compatible thumbscrew easily adjusts the bridge height, and specially notched titanium saddles match each string so notes ring more clearly and sustain longer.
---
Wider Neck and Fingerboard A wider neck and fingerboard increase playing comfort for hammer-ons, pull-offs, and bends, yet the same string spacing retains a familiar, consistent feel.
Comprehensive Wood Selection Gibson USA matches the rarest and finest woods to every guitar based on the quality of the match, consistency of the figure, intensity of the figure, clarity, and wave.  Thicker Rosewood Fingerboard The increased mass of a thicker, one-piece rosewood fingerboard extends sustain.
---
Pearl Inlays Genuine pearl inlays enhance the guitar's appearance and increase its value.
---
Smoother Sanded, Buffed and Oiled Fingerboard A new, unique oil-treated buffing process upgrades the fingerboard to a silkier feel.
---
Comprehensive Setup A new comprehensive setup and PLEK program combined with a lower fret height on every Gibson USA 2015 Model Year guitar provides a silky smooth feel, accurate intonation, and easy bending.
---
Heavier Gauge Wire All Gibson USA guitars now use thicker, stranded wire that provides more surface area for making strong internal connections.
---
New Mini Humbucker Design: Improved tonal balance and coil splitting versatility Newly redesigned Mini-Humbuckers provide a more balanced tone with the rich sound of humbuckers, as well  as coil-splitting for extra tonal versatility.
---
Les Paul's 100th Anniversary Gibson is proud to honor the creative genius who not only invented the most iconic guitar ever, but pioneered home and multitrack recording for all musicians.
---
Les Paul Hologram This unique hologram verifies the authenticity of the 2015 Model Year guitars, while paying tribute to the man whose is synonymous with the most coveted guitar in the world.
---
New and Improved Hardshell Case The new and improved hardshell case for 2015 upgrades the look and strength. Made to withstand an up to 15-foot drop (up to four times more resistant to drops than other cases), the tough, ergonomic, molded exterior and cushioned interior provide maximum protection as well as insulation from temperature and humidity extremes.
---
Body
Top
C Grade Maple with Cream Binding
Back
Low Density Mahogany
Top
Wood Species:
Maple
Pieces:
2
Grade:
C
Binding:
Cream
Back
Wood Species:
Mahogany
Pieces:
multi
Density:
Low
Binding:
None
Weight
Weight Relief:
9 hole
Average Weight (body only):
2.63 kg / 5.8lbs
Materials Used
Glue:
Franklin Titebond 50
Tonal, Resonant, and/or Technical Effect:
With the 9 hole weight relief pattern it lightens the load slightly while preserving the sustain
Body Contour
Carve:
Classic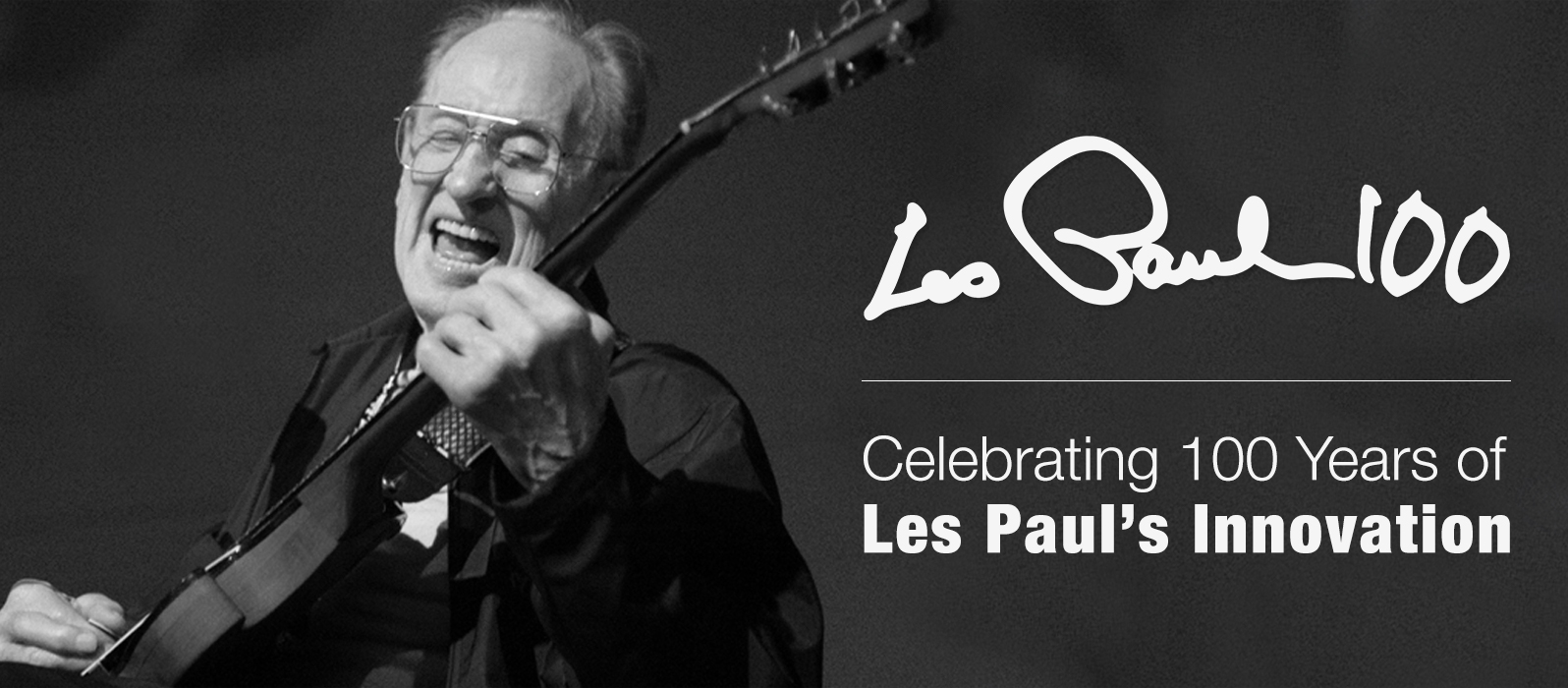 Neck
Neck
Wood Species:
Mahogany
Pieces:
1
Details
Truss Rod:
Les Paul
Profile:
Rounded Asymmetrical
Thickness at Fret 1:
20.78 mm / .818″
Thickness at Fret 12:
24.46 mm / .963″
Other Materials:
Franklin Titebond 50
Average Weight:
544.31 gm / 1.2 lbs
Peg Head
Type:
SP1–B
Inlay:
Mother of Pearl
Peg Head Binding:
None
Logo:
Mother of Pearl "Gibson"
Silkscreen:
Gold "Les Paul 100"
Headstock Angle:
17 degrees
Tonal, Resonant, and/or Technical Effect:
The rounded asymmetrical neck provides an ergonomic feel and the mahogany adds a rich tonal quality
Neck Fit
Joint Angle:
5 degrees
Joint Angle Tolerance:
0 deg 0 min 15 sec
Type:
Mortise and Tenon
Adhesive:
Franklin Titebond 50
Gauges Used:
Pitch Height Gauge, Alignment Gauge
Nut
Style:
Zero Fret Nut
Material:
Cryogenically treated Brass
Width:
4.5993 cm / 1.795″
Slots:
E: 1.4732 mm / 0.058 inches
A: 1.2192 mm / 0.048 inches
D: 0.9652 mm / 0.038 inches
G: 0.7112 mm / 0.028 inches
B: 0.4826 mm / 0.019 inches
e: 0.3556 mm / 0.014 inches
Fingerboard
Wood Species:
Rosewood
Pieces:
1
Shade:
Medium
Fingerboard Details
Radius:
30.48 cm / 12″
Frets:
22
Nut/End of Board:
4.5993 cm / 1.795″ @ nut, 5.9944 cm / 2.360″ @ end of board
Scale:
62.865 cm / 24.75″
Binding:
Cream
Side Dots (Color):
Black
Fingerboard Inlays
Style:
Trapezoid
Material:
Mother of Pearl
Dimensions:
From 16.51 mm x 29.718 mm / 0.66″ x 1.17 " to 6.096 mm x 39.624 mm / 0.24″ x 1.56″
Average Weight:
117.93 gm / 4.16 oz
 Finishes
Wine Red
| | |
| --- | --- |
| Color Code: | WR |
| Surface Texture: | Smooth/ Hi Gloss 90 Sheen Lacquer |
| Filler: | Walnut |
| Sealer: | 1–1.5 mils |
| Top: | Wine Red #506–D5V–4466 |
| Top Coat: | Hi Gloss Lacquer/ 90 Sheen 7–8 mils |
| Scraped: | Fingerboard Sides, Body and Nut |
Pelham Blue Metallic Top
| | |
| --- | --- |
| Color Code: | PH |
| Surface Texture: | Smooth/ Hi Gloss 90 Sheen Lacquer |
| Filler: | Natural |
| Sealer: | 1–1.5 mils |
| Top: | Pelham Blue # 410–A5V–5231 |
| Top Coat: | Hi Gloss Lacquer/ 90 Sheen 7–8 mils |
| Scraped: | Fingerboard Sides, Body and Nut |
Heritage Cherry Sunburst
| | |
| --- | --- |
| Color Code: | HS |
| Surface Texture: | Smooth/ Hi Gloss 90 Sheen Lacquer |
| Filler: | Walnut |
| Sealer: | 1–1.5 mils |
| Top: | Sunburst Yellow #508–Y5V–1167 w/ HC Burst #508–D5V–1169 |
| Top Coat: | Hi Gloss Lacquer/ 90 Sheen 7–8 mils |
| Scraped: | Fingerboard Sides, Body and Nut |
Gold Top
| | |
| --- | --- |
| Color Code: | GT |
| Surface Texture: | Smooth/ Hi Gloss 90 Sheen Lacquer |
| Filler: | Natural |
| Sealer: | 1–1.5 mils |
| Top: | Gibson Gold Top #KUS NIT 10075 |
| Top Coat: | Hi Gloss Lacquer/ 90 Sheen 7–8 mils |
| Scraped: | Fingerboard Sides, Body and Nut |
Electronics
Pickups
Rhythm
Lead
Style:
New LP Mini Humbucker
New LP Mini Humbucker
Winds/Coil: Screw side/Slug side:
7000/7000
8400/8400
Material of Wire (gauge):
44 ga
45 ga
Coil Dimensions (per coil):
6.57 cm x 1.27 cm / 2.59″ x 0.50 "
6.57 cm x 1.27 cm / 2.59″ x 0.50″
Coil Material:
ABS
ABS
Coil Winding Process:
Machine Wound
Machine Wound
Pole Piece Material:
Steel blade
Steel Blade
Pole Piece Position from Nut:
47.3075 cm / 18.625″
59.52998 cm / 23.437 inches
Slug Material:
Steel blade
Steel Blade
Slug Dimensions (diameter x length):
5.74 cm x 1.27 cm x 3.175 mm / 2.26″ x .50″ x. 125″
5.74 cm x 1.27 cm x 3.175 mm / 2.26″ x .50″ x. 125″
Magnet Material:
Alnico V
Alnico V
Magnet Position from Nut:
48.26 cm / 19″
58.7375cm / 23.125″
Magnet Dimensions:
6.35 cm x 1.27 mm / 2.5″ x 0.5″
6.35 cm x 1.27 mm / 2.5″ x 0.5″
Polarities:
Screw side is the south pole of magnet
Screw side is the south pole of magnet
Cover:
Nickel plated
Nickel plated
Qfactor:
3.72
2.99
ResistanceDC:
17.01k ohms
26.42k ohms
Resonant Frequency:
1719.07 Hz
1421.77 Hz
Tonal & Resonant Advancements:
The 2015 Mini Humbucker has an Alnico V magnet and extra turns on each coil for more punch and clarity when split
Control Pocket Assembly
Lead Volume
Rhythm Volume
Type:
500K Non–Linear
500K Non–Linear
Peak Voltage:
500V
500V
Range:
0–500K
0–500K
Power Rating:
1/4 watt above 100K ohms
1/4 watt above 100K ohms
Resistance Tolerance:
+/– 20%
+/– 20%
Minimum Resistance:
200 ohms
200 ohms
Lead Tone
Rhythm Tone
Master Tone
Type:
500K Non–Linear
Peak Voltage:
500V
Range:
0–500K
Power Rating:
1/4 watt above 100K ohms
Resistance Tolerance:
+/– 20%
Minimum Resistance:
200 ohms
Mini Toggle
Type:
mini toggle
Peak Voltage
2A 250VAC, 5A 120VAC
Range:
DPDT 2 position
Power Rating:
Resistance Tolerance:
Minimum Resistance:
:
Lead Value
Rhythm
.022 uF
Hardware
Tuning Keys
Style:
G FORCE
Material:
Zamak
Weight:
31.1845 gm / 1.1oz
Tuning Keys Details
Tuning Ratio:
40:1
Gear Type:
Synchronized spur gear system
What is allowable turn:
+/– 2 degrees
Plating specs:
Nickel
Part numbers:
430–14299B / 430–14299T
String Dimensions
E:
1.1684mm / 0.046″
A:
0.9144 mm / 0.036″
D:
0.6604 mm / 0.026″
G:
0.4064mm / 0.016″
B:
0.2794mm / 0.011″
e:
0.2286mm / 0.009″
Bridge
Style:
Tune–o–matic w /Titanium saddles
Material:
Zamak base
Plating Specs:
Nickel plating on base only
Part number:
430–14384
Weight:
72.5748 gm / 2.56 oz
Dimensions of String Slots
E:
1.4732mm / 0.058″
A:
1.2192mm / 0.048″
D:
0.9652mm / 0.038″
G:
0.7112mm / 0.028″
B:
0.4826mm / 0.019"
e:
0.3556mm / 0.014″
Tailpiece
Style:
Stop Bar
Compensated:
No
Material:
Zamak
Plating Specs:
Nickel
Part number:
430–10173
Weight:
82.21 g / 2.9 oz
Output Jack
Style:
1/4″ stereo jack
Jack Plate
Style:
Les Paul Square
Material:
ABS– Cream
Part Number:
430–19299
Weight:
2.0 gm / 0.07 oz
Strap Buttons
Material:
Aluminum
Plating Specs:
None
Part numbers:
430–19160 / 430–19160E
Weight:
4.0 gm / 0.14 oz
Plastics
Pick Guard
Style:
Les Paul soap bar
Part Number:
430–12508
Truss Rod Cover
Style:
black and white bell hot stamped gold "Deluxe"
Part Number:
430–19380
Knobs
Style:
Gold supreme grip speed
Part Number:
430–31001
Dial Pointers
Yes/No:
No
Control Plate(s) (Backplate Cover)
Style:
Stainless steel infused polycarbonate for Electrostatic Discharge Protection with battery box
Part Number:
380–12209B
Control Plate(s) (SwitchPlate Cover)
Style:
Stainless steel infused polycarbonate for Electrostatic Discharge Protection
Part Number:
380–12211
Switch Washer
Style:
Cream with hot stamp gold
Part Number:
430–19293
Trim Rings
Style:
Soar Bar Cream
Part Number:
430–13946
Accessories
Case
Style:
Hard Shell
Color:
Gold Molded
Strap Locks:
No
Tools:
Truss Rod Wrench, .050 + 2.5mm Allen wrenches, G FORCE Charging Adapter
Manual:
Gibson USA Owner's and G FORCE QUICK START
COA/Other:
None