True Historic 1957 Les Paul Custom "Black Beauty"
The Most Accurate '57 Custom Reissue Yet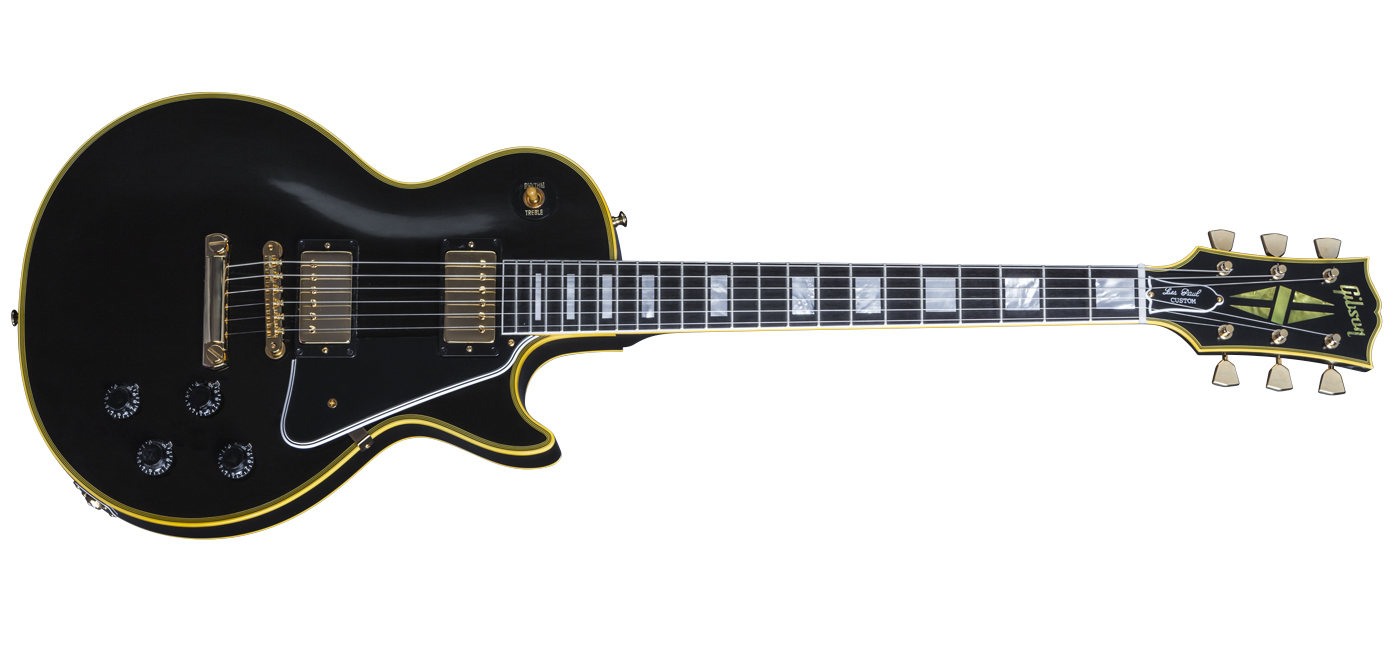 Fanatic new levels of detail accuracy reveal a vintage Les Paul Custom like never before, including period-correct plastics, wet-sanded nitro finish, mind-blowing playing feel and Custom Bucker tone.

True Historic PlasticsBased on lab analysis of original Gibson plastics from the 1950's, the plastics on the True Historics including the Toggle Washer, Cream Jackplate, Cream Pickguard, Pickup Mounting Rings and Toggleswitch Cap, have been reformulated and re-engineered to the original specifications of their vintage counterparts.True Historic Pickup CoversEngineered and manufactured to capture every angle and nuance of original vintage pickup covers.Double-Carved TopTo recapture the top carve profile of original Vintage Gibson Les Pauls, all True Historic Les Pauls are double carved by CNC, with the final shape of their dish carve achieved through a hand-sanding process.Double-Carved NeckThe necks on all True Historic guitars are double-carved and then hand sanded to achieve that legendary vintage Gibson neck profile; the "beefy", solid feel of a beautifully hand-crafted Les Paul that rests in the player's hand like no other guitar."Broken" Peghead Edges, Smoother EdgesHand-sanded peghead, neck and body edges beautifully capture the look and feel of a true vintage Les Paul.Thinner Peghead VeneerWhile you can't see it on a finished Les Paul, original 50's guitars from Gibson had a thinner peghead veneer. In 2015, all True Historic guitars feature this thoughtful detail in their mission to be as close to an original as possible.Thinner True Historic Wet-Sanded FinishAll True Historic guitars from Gibson Custom are sprayed with thinner finishes, as were the original 1950's guitars, and are now had wet-sanded for beauty and authenticity.Hide Glue Top ConstructionAlong with all hide glue neck construction, Gibson Custom extends the use of hide glue to join the back and top of every True Historic guitar, just as it was done in the 1950's.Rolled Fingerboard BindingOne of the most magical aspects of an original 50's Les Paul is its smooth, natural feel. We hand-file the fingerboard binding on every True Historic Les Paul to capture that feel precisely.
Body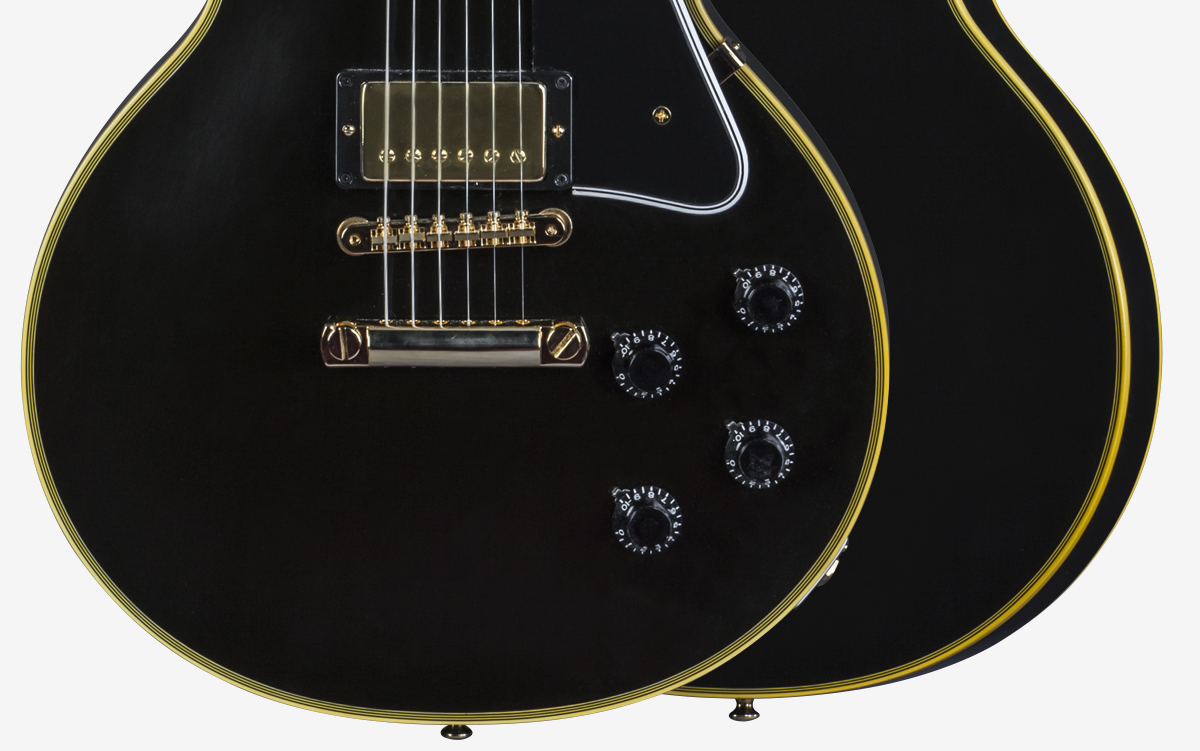 Top
Wood Species:
Pieces:
Grade:
Binding:
7 Ply WBW
Back
Wood Species:
Mahogany
Pieces:
1
Density:
Binding:
5 Ply WBW
Weight
Weight Relief:
None
Average Weight (body only):
3.175 kg / 7.0 lbs average
Materials Used
Glue:
Tonal, Resonant, and/or Technical Effect:
Hand selected backs
Body Contour
Carve:
Original 1957 Les Paul Custom
Neck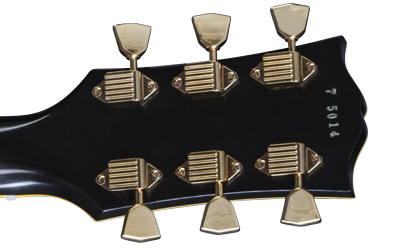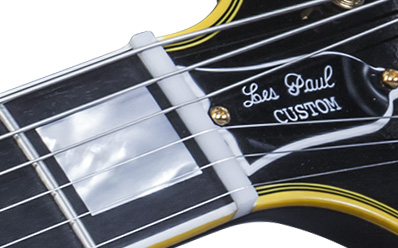 Neck
Wood Species:
Mahogany
Pieces:
1
Details
Truss Rod:
Historic Reissue-No Tubing
Profile:
1957 Les Paul Custom
Thickness at Fret 1:
2.26 cm /.900″
Thickness at Fret 12:
2.54 cm / 1.0″
Other Materials:
Average Weight:
.453592 kg / 1.25 lbs
Peg Head
Type:
1957 Les Paul Custom True Historic Holly Head Veneer
Inlay:
Les Paul Custom Pearl
Peg Head Binding:
5 Ply WBWBW
Logo:
"Gibson" Open O and B
Silkscreen:
Headstock Angle:
17 Degrees
Tonal, Resonant, and/or Technical Effect:
Diamond Shaped Pearl Inlays-Les Paul Custom
Neck Fit
Joint Angle:
4 Degrees
Joint Angle Tolerance:
Type:
Reissue
Adhesive:
Hot Hide Glue
Gauges Used:
Pitch and Alignment Gauge
Nut
Style:
6/6
Material:
Nylon
Width:
4.28 cm / 1.687″
Slots:
E: .13716 cm / 0.054″
A: .10414 cm / 0.041″
D: .04826 cm / 0.019″
G: .0381 cm / 0.015″
B: .03556 cm / 0.014″
e: .03048 cm / 0.012″
Fingerboard
Wood Species:
Ebony
Pieces:
1
Shade:
Fingerboard Details
Radius:
30.38 cm / 12″
Frets:
22
Nut/End of Board:
4.28498 cm / 1.687″ @ nut, 5.6896 cm / 2.24″ @ end of board
Scale:
62.865 cm / 24.75″
Binding:
.063 White
Side Dots (Color):
Black
Fingerboard Inlays
Style:
Block
Material:
Pearl
Dimensions:
Large: 2.921 cm x 1.7018 cm / 1.080″ x .875″, Small: 3.937 cm x .6096 cm / 1.375 x .155″
Average Weight:
.340194 kg / .75 lbs
Finishes


Vintage Ebony
| | |
| --- | --- |
| Color Code: | VEB |
| Surface Texture: | True Historic, Wet-Sanded, Thin Lacquer Finish |
| Filler: | None |
| Sealer: | Nitro Cellulose |
| Top: | |
| Top Coat: | Nitro Cellulose |
| Scraped: | True Historic Process To Preserve Soft Neck Binding Profile and Body Binding Ledge |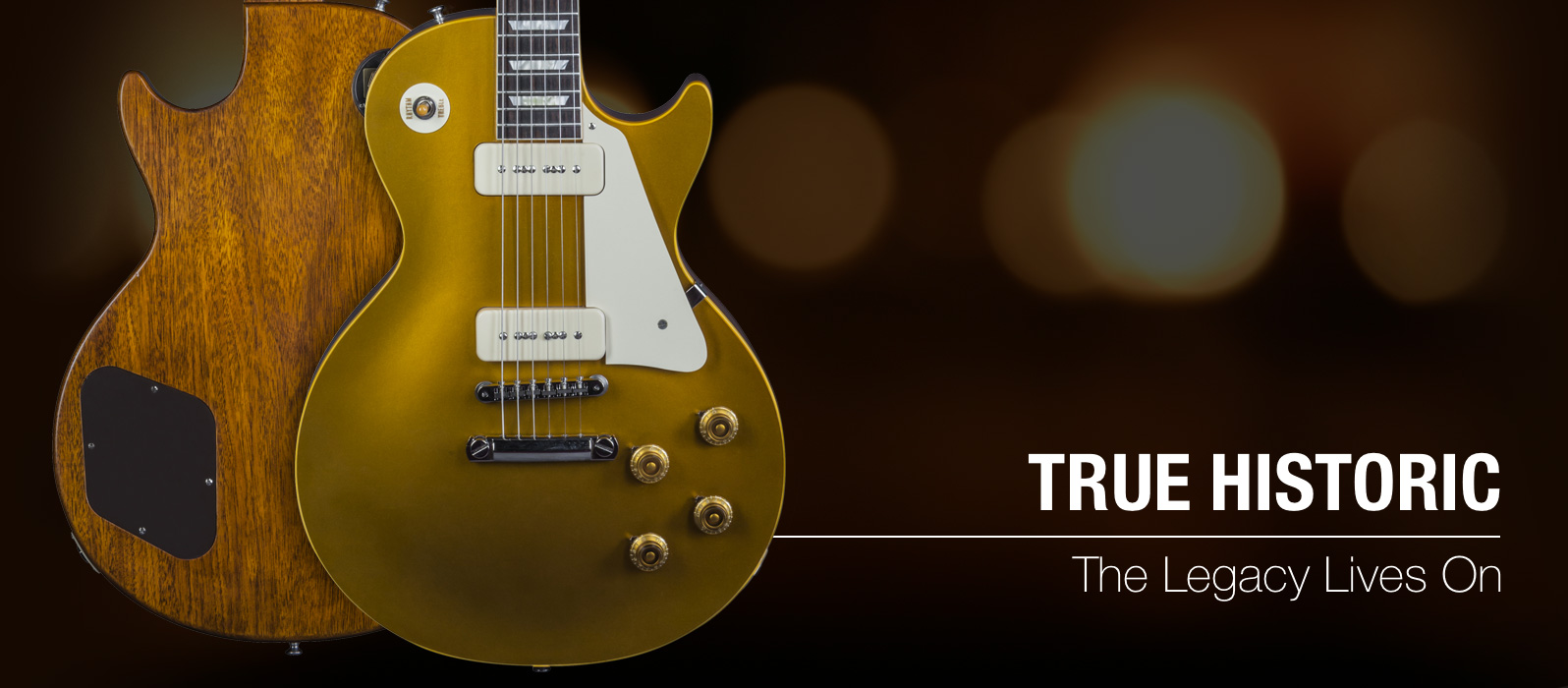 Molecular-Level Analysis Delivers the Look, Feel and Tone of a Real "Black Beauty"
Among all the advances made since the Historic program was initiated in 1993, nothing represents the kind of quantum leap forward of the new 2015 True Historic range. Fanatic new levels of detail accuracy have inspired a total re-tooling and re-training at Gibson Custom, delivering the authentic ownership experience that places the beauty, feel, and tone of an original 1950s Gibson in your hands. Produced in very limited numbers, the True Historic 1957 Les Paul Custom benefits from molecular-level analysis of original vintage plastics to achieve uncanny precision in its characteristic multi-ply binding, inlays and appointments. A double-carved and hand-sanded top and neck, hand wet-sanded finish, hand-filed rolled fingerboard binding and other exacting details bring you closer to the real thing than ever before.
Electronics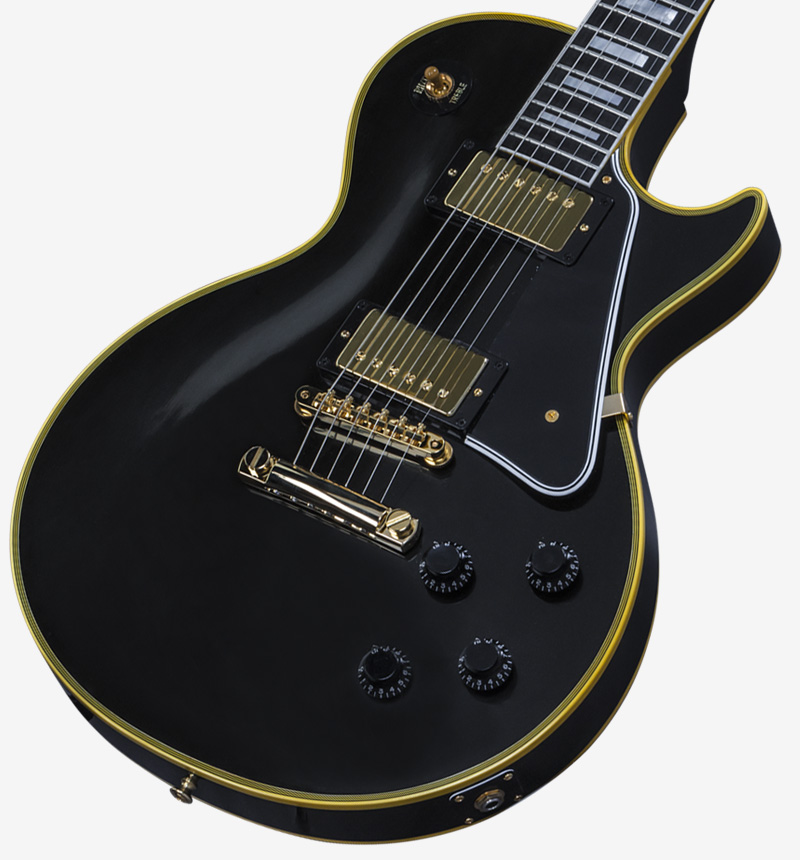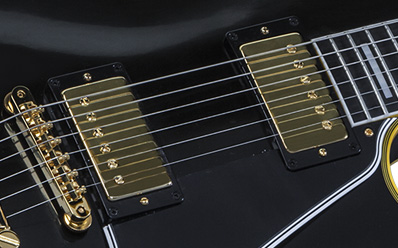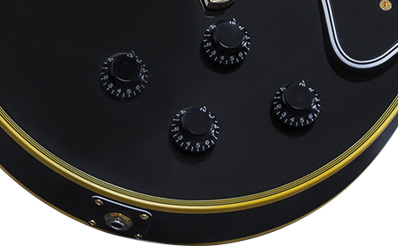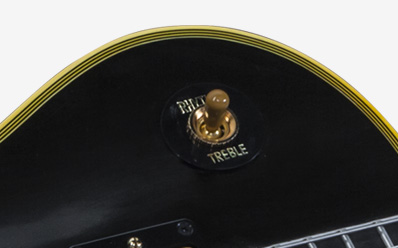 Pickups
Rhythm
Lead
Style:
Custom Bucker
Custom Bucker
Winds/Coil: Screw side/Slug side:
5200-5590
5200-5590
Material of Wire (gauge):
#42 Enamel
#42 Enamel
Coil Dimensions (per coil):
6.6294 cm x 1.7272 cm x .9525 cm / 2.61 x.68 x .375″
6.6294 cm x 1.7272 cm x .9525 cm / 2.61 x.68 x .375″
Coil Material:
ABS
ABS
Coil Winding Process:
Machine Wound
Machine Wound
Pole Piece Material:
416 Grade Stainless Steel
416 Grade Stainless Steel
Pole Piece Position from Nut:
47.3075 cm / 18.625″
59.7 cm / 23.5″
Slug Material:
416 Grade Stainless Steel
416 Grade Stainless Steel
Slug Dimensions (diameter x length):
.4826 cm x 1.24206 cm / .190 x .480″
.4826 cm x 1.24206 cm / .190 x .480″
Magnet Material:
Alnico III
Alnico III
Magnet Position from Nut:
48.1965 cm / 18.975″
58.36 cm / 22.975″
Magnet Dimensions:
6.35 cm x 1.27 cm x .3175 cm / 2.5 x .5 x .125″
6.35 cm x 1.27 cm x .3175 cm / 2.5 x .5 x .125″
Polarities:
Cover:
True Historic Replica Gold
True Historic Replica Gold
Qfactor:
ResistanceDC:
8.0k
8.5k
Resonant Frequency:
Tonal & Resonant Advancements:

Hardware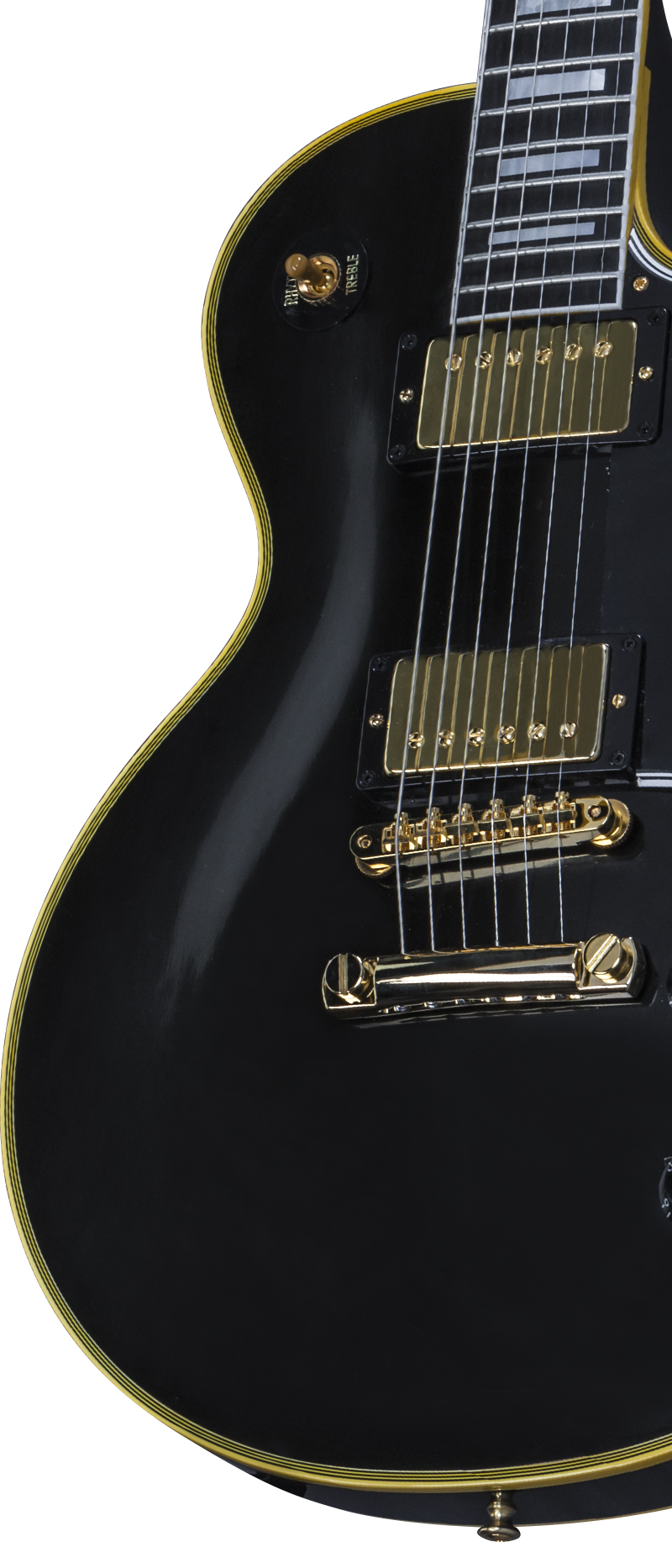 Tuning Keys
Style:
Reissue Waffle Back Tuners
Material:
Gold
Weight:
3.6 oz
Tuning Keys Details
Tuning Ratio:
12:01
Gear Type:
Closed
What is allowable turn:
1/4
Plating specs:
Gold Plated Stamped Steel
Part numbers:
130-430-14006/007
String Dimensions
E:
.11684 cm / .046W
A:
.09144 cm / .036W
D:
.06604 cm / .026W
G:
.04318 cm / .017P
B:
.03302 cm / .013P
e:
.0254 cm / .010P
Bridge
Style:
ABR With Thumbwheels
Material:
Zinc Surrounded by a die casting alloy for casting flow
Plating Specs:
Gold Plated
Part number:
130-430-10160
Weight:
.0637 kg / 2.25 oz.
Dimensions of String Slots
E:
0.1778 cm / 0.070″
A:
0.13716 cm / 0.054″
D:
0.1016 cm / 0.040″
G:
0.0635 cm / 0.025″
B:
0.0508 cm / 0.02″
e:
0.0381 cm / 0.015″
Tailpiece
Style:
Stop Bar
Compensated:
No
Material:
Lightweight Aluminum
Plating Specs:
Gold
Part number:
130-430-11739
Weight:
.0311845 kg / 1.1 oz
Output Jack
Style:
1/4″
Jack Plate
Style:
"Oreo" WBW
Material:
ABS
Part Number:
130-430-19805
Weight:
.0056699 kg / .2 oz
Strap Buttons
Material:
Brass
Plating Specs:
None
Part numbers:
130-430-19321
Weight:
.0141748 kg / .5 oz
Plastics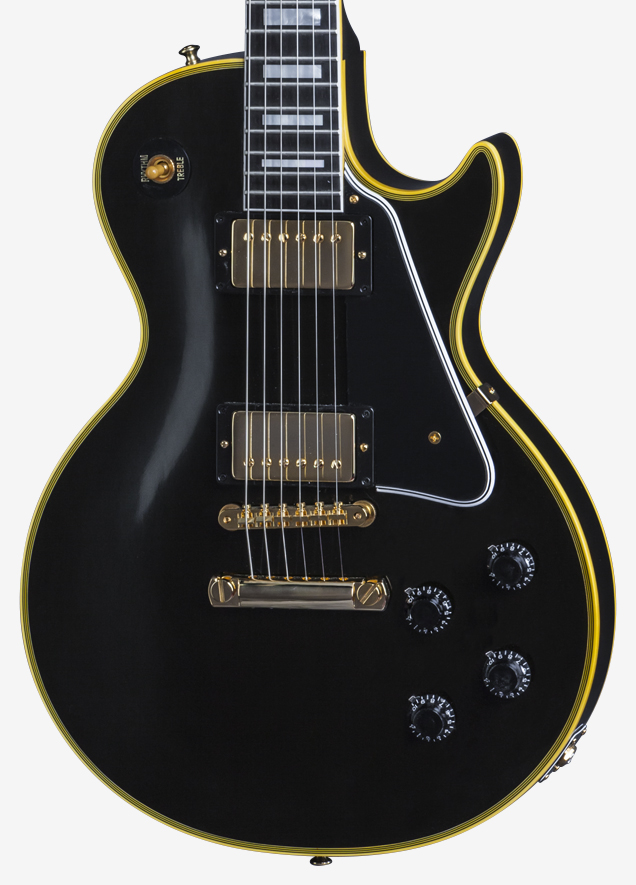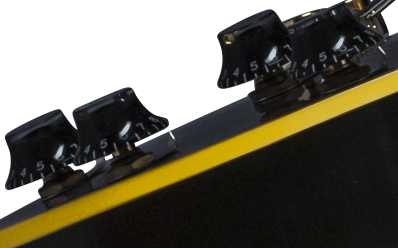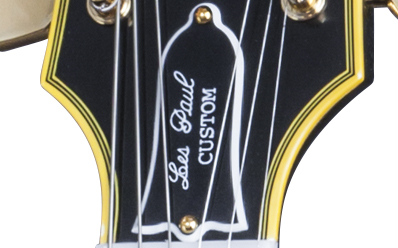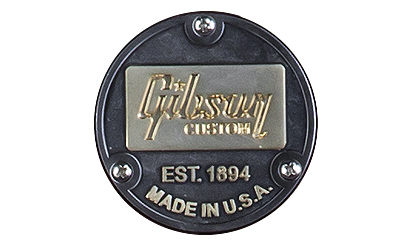 Pick Guard
Style:
1957 Les Paul Custom 5 Ply BWB
Part Number:
130-430-12184
Truss Rod Cover
Style:
True Historic-Hot Stamped "Custom"
Part Number:
130-430-19784
Knobs
Style:
True Historic Black Top Hats
Part Number:
130-430-19669
Dial Pointers
Yes/No:
Yes
Control Plate(s) (Backplate Cover)
Style:
Reissue Les Paul .09 Black Royalite
Part Number:
130-430-19808
Control Plate(s) (SwitchPlate Cover)
Style:
2015 Die Cast Gibson Custom Medallion
Part Number:
130-430-19016
Switch Washer
Style:
Black
Part Number:
130-430-19295
Trim Rings
Style:
Black
Part Number:
130-430-13851/852
Accessories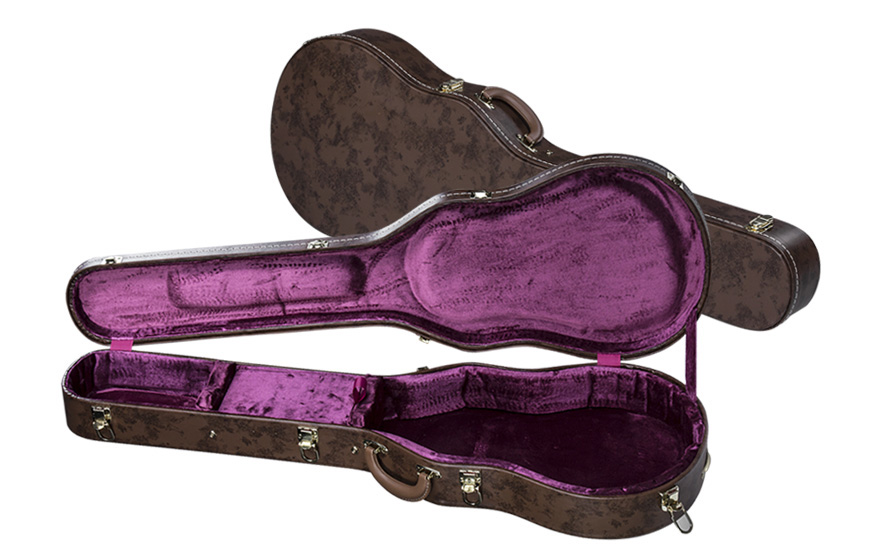 Case
Style:
Reissue Les Paul
Color:
Reissue Brown with Pink Fur Lining
Strap Locks:
None
Tools:
None
Manual:
None
COA/Other:
Custom Shop True Historic Certificate of Authenticity in Binder, Extra Black Plastic Treble/Rhythm Switch Cover Plate