Nicknamed "From One Brother to Another" SG, the '61/'62 SG played a huge part in the history of The Allman Brothers Band.
In the earlier years of the Brothers, you can see Dickey Betts playing it, and I'm a huge fan of his tone heard on "Live at the Fillmore East".
I couldn't get enough of that biting attack and the warm sustain that follows. It's probably played on the middle position, but correct me if I'm wrong.
Later on the iconic SG was given to brother Duane Allman because Dickey just couldn't put up with Duane as he went back and forth between standard and open tunings depending on the tune, hence the nickname on this model.
Only 75 "aged/signed" models and 250 "VOS" models were produced, and one of the 250 is what we have here today. Slide guitar master and former Allman Brothers guitarist Derek Trucks is known to own two of the Pilot Run Aged/Signed models and regularly plays them on stage and in recording sessions as his go-to guitar. So the torch was passed on.
It's not just because I'm an Allmans fan that makes me a little enthusiastic about this guitar.
This is one of the most well-made recreations of a vintage style SG.
The small "banjo" frets, nylon saddles and even the body and headstock shape is spot-on. It doesn't have the sideways-vibrola like those from back in the day, but that's because the original had the unit taken off, and the tuners were replaced with Schallers because that's what a lot of players did back then for better intonation.
The wide thin neck and "banjo" frets create that unique midrange punch that SGs are known to have while eliminating unwanted low-end, maintaining great clarity even with humbuckers in the neck position.
Nylon saddles, which are obviously more flexible than regular nickel-over-brass saddles, add to the vintage vibe taking away the treble frequencies by a tiny bit.
This faded cherry color looks a lot like a well-loved vintage SG and just looks awesome. With or without Dickey's name on it, it's genuinely a great playing and sounding guitar.
---
In our ongoing series, Gibson.com salutes the careers of some lauded Gibson guitar greats. This time it's the Allman Brothers' often-underappreciated Dickey Betts, who turns 74 this week…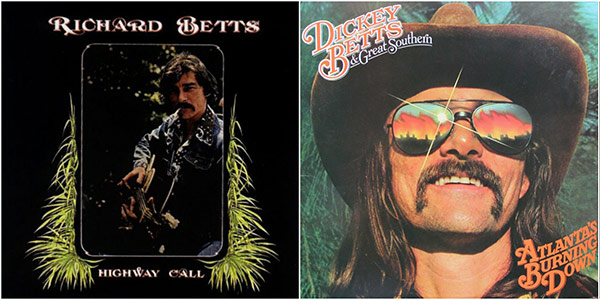 Who is he?
To the layman, he's "the other guitarist" in the legendary Allman Brothers Band lineup, the one who isn't Duane. To the knowledgeable, Forrest Richard "Dickey" Betts is not only an original member of the Allman Brothers Band but is also right up there with Duane as one of the most influential lead guitarists in rock. It's true to say that Dickey Betts has rarely received a fair hearing; it's also true that he's sometimes made life difficult for himself. But when it comes to sheer musicality, the guy deserves acres of praise and hours of your listening time. 2017 has been a tragic year for Allmans fans, with the passing of Gregg Allman and Butch Trucks. Maybe it's time Dickey Betts gets his props while he's still with us.

Signature Sounds
Betts is a master of making his playing very simple, and the joyous melodicism of classic Allmans soloing has a lot to do with Betts. Away from Duane Allman's stellar slide playing, Betts gives classic Allmans a kick of country and jazz, blended with his own take on blues motifs. He relies a lot on the simple major pentatonic scale, a staple in the bluegrass and country music he grew up on. In addition, he often reduces his runs to "cells" of four-or-so notes, played as up-or-down runs. This isn't hard in theory, but playing this way repetitively with nuance and flavor is. Listen to Allman Brothers favorites like "Jessica", "Melissa", "Ramblin' Man", "In Memory of Elizabeth Reed" or "Blue Sky" as prime examples. It's very hard to play simple scale-based solos and not them make them sound, well, "scaley" – like by-rote exercises. Betts can do it like a champ, though.
Betts' inherent melodicism is key to why his playing is so distinct. Of his own composition "Jessica" he told Guitar World, "My instrumentals try to create some of the basic feelings of human interaction, like anger and joy and love." With "Jessica," it was the latter – Betts wrote it trying to capture the feeling of seeing his infant daughter crawling around the room. Of course, it's not quite that simple. "I came up with that melody using just two fingers as a sort of tribute to Django [Reinhardt]," said Betts. "That the song turned out so well is very satisfying. In general, writing a good instrumental is very fulfilling because you've transcended language and spoken to someone with a melody." Amen, brother!
He introduces flattened notes into the five-note pentatonic as well, of course, adding the minor third or the perfect fourth (you end up with a somehow unfavorable-sounding "hexatonic scale"), passing notes, slurs… but it's easy to get bogged down in the theory of it all. What is undeniable is that he blended with Duane Allman like one of the great (est?) guitar partnerships. "We didn't do it consciously," Betts told Gibson.com. "We knew that when we started improvising, things fit, and we didn't analyze it. Duane was more real militaristic in to urban blues. And then I had a Western swing lilt to my rock playing and it fit together beautifully."
Betts' tone was also legendary of those early Allmans records. His search for tonal heaven – usually on his Gibson Les Pauls or SGs – was inspired by an unlikely source. "I guess it goes back to when I was a kid," he told Gibson.com. "I saw how my dad would pay attention to his fiddle sound. He knew how to tune a fiddle by putting a tone post in, to push the top of the fiddle up. He would move that post around until he had just the right tone. So I think that search for tone is just in my disposition. I always wanted my guitar to have a little edge on it, but with a clear sound. I experimented with different speaker combinations until I found it. Part of your tone is in your hand, too."
We could go on and on… but Betts deserves more than a listen as just "the other" guitarist in the Allmans' mighty catalog. As the late Duane even acknowledged, "I'm the famous guitar player… but Dickey is the good one." Betts' clean-toned, modal-style soloing lives on in every Southern rock group that's followed.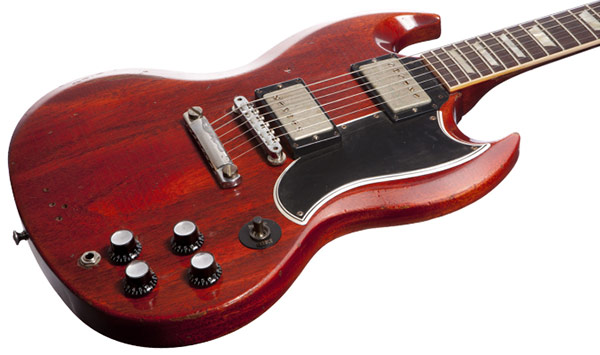 Dickey Betts and Gibson Guitars
For the classic Allmans albums, Betts relied on Gibson Les Pauls and SGs, and many have become as famous as their owners. Over the years Gibson Custom has recreated the replica "From One Brother To Another" 61/62 Gibson SG that Betts gave to Duane for slide playing. They also replicated his 1957 "Goldie" Goldtop. Both were limited editions and are collectors' items now. As Betts said of the recreations, "Gibson did such a great job making that guitar" (of the SG), and "I think I might actually like it more than Goldie now" (of the Goldtop). Then there's the Dickey Betts '57 Redtop Les Paul, the Goldtop that got so oxidized Betts stripped it down to bare wood and refinished it. That one was immortalized in 1975 when Charlie Daniels sang about "Richard Betts picking that red guitar" in his tribute to Southern rock, "The South's Gonna Do It Again."
---
Gibson Custom Shop Dickey Betts SG STD
Whether you're an on-tour Rambling Man or tied to the Whipping Post of the studio, the Dickey Betts Custom SG is a magnificent guitar like no other. As the story goes, Dickey Betts was tired of waiting for Duane Allman to tune, and gave him the famous "From One Brother to Another" SG so he'd have another quality guitar to take on the road. With this release, the Gibson Custom Shop has recreated every detail of Betts' original early '60s SG with astonishing accuracy and care. The result is a stunning guitar worthy of the tone and talent of two Allman Brothers legends.
Classic Allman Brothers Tone
When you think of the guitar work of the Allman Brothers Band, you think of sweet, singing leads layered over bluesy rhythms and driving percussion. The versatile tonal capabilities offered by a classic Gibson solid-body made it an obvious choice for the band's guitarists. The Betts SG features two Custom Bucker pickups modeled after the powerful humbuckers of the early '60s. Using Alnico III magnets and slightly mismatched and unpotted coils, these pickups provide the same full-bodied yet articulate tone heard on countless Allman Brothers recordings. The body is made from a single piece of mahogany with a mahogany neck crafted in Dickey's preferred thin '60s profile.
Aged Finish and Vintage-style Hardware
A limited run of the Dickey Betts SG have been custom aged to give the look and feel of a genuine early '60s road warrior guitar. Gibson has replicated the original Betts SG so closely that even small markings on the front and back are included in the process. Also true to the original is the inclusion of a add-on wraparound tailpiece, ABR-1 bridge, chrome tuners, and trapezoid inlays.
Features:
– Modeled after legendary "From One Brother to Another" SG
– Sold one-piece mahogany body with classic SG beveled edges
– Rosewood fingerboard with thin Dickey Betts neck profile
– Powerful Custom Bucker pickups with Alnico III magnets
– Add-on wraparound tailpiece, ABR-1 bridge, and classic chrome tuners
– Hand aged in Gibson Custom Shop
– Included hardshell case and signed certificate of authenticity
With the Dickey Betts Custom SG, the Gibson Custom Shop offers all the classic '60s Gibson tone and quality that made this worthy of two southern rock icons. Powerful vintage-style pickups and a meticulous aging finish make this a one-of-a-kind instrument.
– Body: 1 Piece Genuine Mahogany–
Neck: 1 Piece Genuine Mahogany With Dickey Betts Profile–
Fingerboard: Rosewood, 22 Frets With Banjo Fret Wire–
Inlay: Aged Acrylic Trapezoid–
Finish: Aniline Dye, Vintage Red–
Tuners: Chrome, Classic Style–
Tailpiece & Bridge: Add-On Wraparound Tailpiece, Abr-1 Bridge With Plastic Saddles–
Pickups: Custom Humbuckers– Headstock: SG Standard Headstock With Holly Veneer– Hardware: Chrome– Knobs: Black Volume And Tone, With Silver Inserts– Run: 75 Aged And Signed– Extras:
– Leather Certificate Of Authenticity, Signed By The Artisit