The Supreme Single-Cutaway, Taking Beauty to the Extreme
The blending of mahogany's rich warmth and depth and maple's clarity and articulation has yielded a tonewood match made in heaven ever since it arrived on the first Les Pauls nearly six decades ago. This same combination is a part of what makes the Les Paul Supreme a superlative sounding guitar as well as a stunning looker, but in a gorgeous twist this model has a Grade-AAAA figured maple back in addition to its top, while its mahogany core is carefully chambered to reduce weight as well as enhance resonance.
Each piece of wood is personally inspected and qualified by Gibson's team of skilled wood experts before it even enters the Gibson factory, and the final result of figured maple of this caliber is nothing short of stunning. The Supreme tonewoods don't end there, either, and Gibson USA brings a Grade-A mahogany neck to the table too. A fast but comfortably rounded neck carve with a thickness of .818″ at the 1st fret and .963″ at the 12th fret and a width of 1.695″ at the nut makes this instrument sweetly playable.
Capping off the classically upgraded appointments here is a Richlite® fingerboard with distinctive split-block mother-of-pearl inlays in the tradition of the LeGrand and Super 400 archtops. But all of this superb craftsmanship would be nothing without the right pair of pickups to translate it to your amp of choice.
The Les Paul Supreme sports two of Gibson USA's most popular humbuckers, the 490R and 498T from the Modern Classics series. With the tonal characteristics of an original PAF, but with a slight increase in output and upper mid-range response, these are the perfect pickups for anything from classic rock to jazz fusion to more contemporary styles. The 490R is made with an Alnico II magnet for plenty of smooth vocal tones in the neck position. The Gibson 498T bridge pickup is the 490's ideal complement, and takes the design one step further by swapping the Alnico II magnet to an Alnico V, thus making it slightly hotter with emphasis on mid-ranges and highs. The pole pieces on the 498T are also aligned a little further apart to accommodate the spacing of the strings at the bridge, which is different than the spacing of the strings at the neck.
Feed them with the solid sustain and rich resonance inspired by a classic Gibson hardware package, including an upgraded set of Grover keystone tuners, and there's no end to what this guitar can do. Consummate your own marriage of sonic beauty and visual splendor, and latch onto a Les Paul Supreme today.
---
Body and Finish
Crafted from a highly figured Grade-AAAA maple top and back with a chambered mahogany body core, with painstakingly applied seven-ply top binding and three-ply back binding, the Les Paul Supreme is finished in your choice of Heritage Cherry Burst or Desert Burst in nitrocellulose lacquer, and hand-buffed to a high-gloss sheen. 
Neck, Fingerboard and Headstock
The guitar's neck and headstock construction are inspired by the classic design of the original Les Pauls but feature several modern refinements. Carved from a single piece of Grade-A mahogany, with a Richlite® fingerboard with mother-of-pearl split-block inlays, the neck is topped off with a showpiece headstock with MoP globe inlay draped with "Supreme" banner, and five-ply binding.
---
Pickups and Electronics
The Les Paul Supreme sports two of Gibson USA's most popular humbuckers, the 490R and 498T from the Modern Classics series, which offer the tonal characteristics of an original PAF, but with a slight increase in upper mid-range response. These are routed through the traditional control array of two volume and two tone pots and three-way selector switch. Click Here To Learn More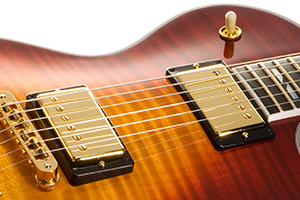 ---
Hardware
The Les Paul Supreme is equipped with Grover "keyston-button" tuners, a Tune-o-matic bridge, and a stop-bar tailpiece, all of which are plated in gold, and are among the most lauded hardware available for performance and solidity. The guitar carries traditional aluminum strap buttons, plated in brass.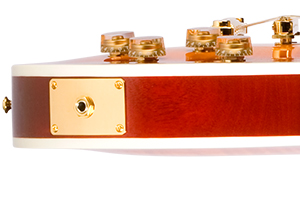 ---